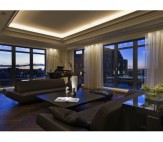 Much like any other metropolitan city, the real estate landscape in Boston is made up of different types of properties, designed to house different types of people according to their widely varied lifestyles. As Upper East is to Manhattan, so is Back Bay to Boston. In fact, most would argue that Boston's Back Bay and South End areas are even more uppity that its Upper East counterpart, especially because of the sheer number of brownstones concentrated on such a dense area. Some would argue that brownstones in Back Bay and the South End are even more expensive to live in than in Manhattan. They're right. At least when it comes to a property's size.
Of the 3,000 condos sold in the last eight months of the year, only half measured greater than 1,000 square feet. The rest, even though centrally located and extremely desirable, were units ranging from 300 to 1,000 sq ft. And if size equates to luxury to you, then brace for bad news - only 1 in twenty of the units that were sold and went over 1,000 square feet are over 2,000 but less than 2,500. This means that if size is your primary consideration for buying, then it might be a bit difficult to look for something above the 2,000-square feet range. But unless you have multiple generations living in a single apartment, there really is no need for that big of a space nowadays.
Yet, if you really need the extra space, then there are properties that will surely match your search criteria - just be prepared to bust out your checkbook. The median price for condo units that were sold above the 2,000 square feet range in the Back Bay-Downtown-South End area was pegged at $1,450,000. However, if that price tag is too costly, there's always Jamaica Plain and South Boston, where rumors of properties of this calibur go for only $700,000 and $650,000, respectively.
As a foot note: unlike Manhattan, where sprawling Penthouses in skyscraper buildings are aplenty, there's only one known unit in Boston that supersedes 6,000 square feet - and that is Unit W-11B of the Mandarin Oriental residences, with a total square footage of 6,111 sq ft, and a cool price tag of $10.3M.
Data courtesy of MLS