If you're one to celebrate All Hallow's Eve (aka Halloween), then this list is for you. Boston and the rest of the Bay State is known to have haunted locations all over, given its abundance of antiquated buildings, and richness in history as the state is one of America's oldest settlements. Beantown's cobblestones, which date back as far as the early 1800's, are a sign of the city's dated past and have been witness to a lot of happenings, both commercial and creepy. Most of the homes built then were intended to house multiple families and have been home to many generations that some say still hasn't left its premises.
Charles Gate Hotel, Back Bay Sitting in Boston's Back Bay on Beacon Street, this hotel was built in 1891 by John Pickering Putnam, his architectural influence was derived from his interest in Nationalism. Frequented by the wealthy until the 1920's, the Charlesgate quickly became a boarding house for ladies of the night and it was linked to the Mafia. The Hotel is now filled with multiple condominiums complete with visitors from the other side. Apparitions in the form of Flappers have been spotted by several dozen workman and visitors, and the basement, once a stable has had quite a few sightings of ghost horses.
Omni Parker House, Downtown Boston The ghost of Harvey Parker, who opened the Parker House in 1856 and died in 1884, allegedly roams the hotel's 10th floor annex. During his life, Parker was "a perfectionist who kept his hands in every detail of his restaurant and hotel operations," says the Omni's website, so his apparitions "hardly come as a shock." Other encounters include shadows, mysterious rocking chair noises -- especially strange because the hotel has no rocking chairs -- and orbs of light. Elevators also mysteriously come to the third floor, where Charles Dickens lived for two years, without being called.
Lizzie Borden House, Fall River Although she was acquitted of the gruesome murder at her 1845 Victorian home, the ax-wielding Lizzie Borden never shook her "forty whacks" claim to fame that she killed her father and stepmother on Aug. 4, 1892. In addition to her chop-chop notoriety, Borden apparently had an intimate relationship with actress Nance O'Neill. There's also a theory that she had a torrid love affair with the housekeeper, Bridget Sullivan. Currently a bed & breakfast and museum, the Borden house is open for curiosity seekers to spend the night where the murders took place.
Cutler Majestic Theater, 219 Tremont St. The theater was built in 1903 and opened and closed on many occasions before Emerson bought and restored it in the 1980s. "Every theatre major at Emerson must do tech work at the Majestic, and most have experienced something," according to a write-up on Massachusetts Paranormal Crossroads. Some say the ghost of a former Boston mayor, who died during a performance, still sits in his seat, while others believe a couple and their daughter hang around the building's upper balcony.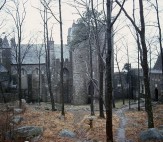 Hammond Castle, Worcester Inventor John Hays Hammond, Jr. who built the medieval-style castle in the late 1920s had an odd desire to be reincarnated as a cat. Many believe the black feline who roamed the grounds and sat in his favorite chair in the library was Hammond himself. Henry Davis Sleeper, the legendary designer who is rumored to have had an unrequited love affair with his Red Roof neighbor, Abram Piatt Andrew Jr., designed the inventor's favorite spot, known as the "whisper room," where people have heard disembodied voices from beyond.