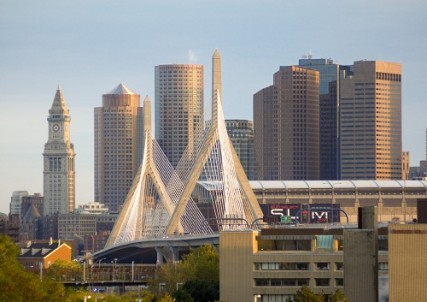 You would think that in a traditional and historic city such as Boston, there would be a great majority of real estate investors that belong to the above 40 year-old demo graph; more specifically, baby boomers and whales that have risen to wealth and power. If that indeed was your trail of thought, then you're mistaken, because that clearly is not the case - at least not anymore. In recent years, more and and more students find it hard to leave Boston behind after getting their degrees, settling in the city and finding respectable jobs in and around their former alma maters. This "new breed of Bostonians" are ultimately different from their more senior counterparts, living a life dictated by technology and social savviness. But what does this all mean for home sellers? Well, that's where it gets tricky.
Balancing your property to appeal to both demo graphs can cause what is known as the "chop suey" effect, where your listing looks like a mix and match of old and new, traditional and modern. But that doesn't have to be the case. There are certain things that today's buyers - whether young or old - look for when they are shopping around for real estate. Just remember that these buyers aren't your standard-issue home buyers from 20 or 30 years ago, who were often married couples looking for a starter home in the suburbs to raise a family. Today, single women make up a large percentage of first-time buyers. What about the men? Well, they often rent and hold out as long as their single and without a family. Either way, the point is simple: as the home buyer evolve, so should the home. Here are five major shifts in homes you can expect to see today and in the coming years.
1. Man Caves and Smarter Homes
The media room or "man cave" emerged in real estate marketing a few years back. Many buyers now prefer high-tech rooms with surround sound, large-screen TV's, and the most up-to-date A/V equipment to the coveted formal dining room of a generation's past. There are hybrid rooms out there that serve as both. The most appealing properties, as results from Better Homes and Gardens' Real Estate Shopping Survey revealed, are those than can be converted easily from one type of room to another.
In other words, if you've put your property on the market and are attracting both baby boomers and millennials, your best bet is to make the room multipurpose, showing off the area's strength to be flexible in whichever way the prospective buyer will use it. Investing in a "smart" technology that's integrated with the home is also not a bad idea, as it's appreciated by both types of buyers. It'll be hard to find someone who isn't astonished with automation.
2. No to Claustrophobic Closets
As you've read earlier, there's a significant number of single women who are in the prowl for property nowadays. And, without the help of any surveys or studies, it's safe to say that they're turned off by small closets. It probably doesn't help your selling cause that these prospective buyers have been brainwashed by today's media to think that sprawling closets still exist (they do, just not a lot of them can be found in the city). Regardless, this has raised the bar and set the tone for closet space, and you as a seller need to respond to that by either freeing up a spare room, or neatly stacking storage containers on top of one another to clear the way for more walkable area. Keep in mind that by doing this, you'll need to spruce up whatever items you might have lying around the house and storing them elsewhere.
3. Home Offices
What are the most common trait of today's home buyers? They are all tech savvy professionals - at least a good majority of them are. Make sure to dedicate an area of your property to a work station or a nifty little nook where potential buyers can see themselves setting up shop. In the BHG Home Shopping Survey, "home offices" tops the buyer's wish list. And depending on the number of bedrooms, some will create a home office with built-in desks, shelving and cabinets. The customized home office with built-ins could deter some buyers, however, who feel they've lost a bedroom or other space. But many prefer to have one place dedicated to their laptops, printers and work-related stuff. Either way, try to make your home office as appealing to the next buyer as it is to you. And keep in mind that, provided you don't create a built-in a desk or bookshelf, the space can easily be reverted back to a bedroom.
4. Hardwood Floors
If you walk into a home that hasn't been on the market for decades, you'll probably see a lot of wall-to-wall carpeting. This was common in the mid 20th century, but most notably absent in Bostonian homes, as there is no need for it. Most homebuyers nowadays (especially in Massachusetts) like to see exposed hardwood floors, and only right so. It makes the space feel less confined and give it a new, clean feeling. No matter how many times the carpet has been cleaned, there's something about stepping on someone else's carpet with your bare feet that turns off today's buyers. If your buyers love your home, but don't necessary like the wall-to-wall carpeting, be sure to notify your agent that you're willing to tear it out and give it that old rustic exposed wood look. Most often than not, that'll be enough to get your buyer to sign on the dotted line.
5. Urban Homes With Amenities
Home buyers used to covet a three-quarter acre lot. Today's buyers -- both the Gen X and Gen Y generations as well as empty-nest retirees--see that same lot and think "maintenance." Instead, they're opting for city living, which is especially true in Boston's case. These buyers seek active lifestyles and opportunities to socialize. They want to be near transit hubs. And they're looking for buildings with amenities. They want a full-time concierge, a full-service gym, even an in-house spa or business center. If this type of property is what you're trying to market, make sure your buyers are fully aware of the homeowners' dues and other associated costs. You wouldn't want to turn them off later on when they're about to sign the purchase & sale agreement.
Think Long-Term
Trends in kitchen countertops, paint colors and bath fixtures come and go. They're based on larger design or style trends and even fashion trends. However, as our society and our culture changes, the larger fixtures and features of our homes change more gradually. They don't mirror the latest trends so much as they reflect shifts in how we live. As a result, investing in long-term home shifts will usually be a better idea than paying extra money for the latest home fad.
Though the home buying market has changed dramatically in the past 30 years, some things will always remain the same. People will always need a place to rest their head at night. And real estate, despite its recent ups and downs, is still a good investment -- remember that when you consider putting your property on the market.