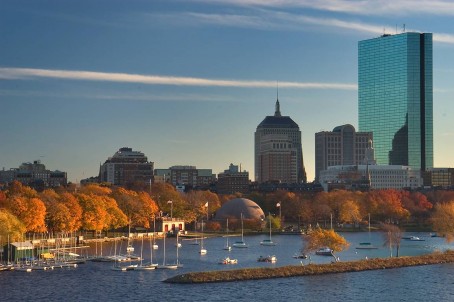 It's that time of the year: the end of summer is nearing, and along comes with it is the start of the Fall season. In Boston and the Northeast, Fall is actually already creeping in, with colder mornings to wake up to, and the chill of the night caps off the day. But it's just not the seasons that are changing - September 1 officially marks the move of more than 100,000 residents in the city. That's right - a hundred thousand. At the least.
This is because four of five rental properties in the city have move-in dates that are set between August 31 and September 1. In fact, if you can, stay away from the Allston/Brighton area during these dates, as you're sure to hit some traffic with the hundreds of moving trucks that will be lined up in the streets since 98% of all properties in that neighborhood are rental units.
But, if you're one of those lucky residents who has to move in during those dates, then it's an all-around adventure. Moving alone is already quite a gigantic task to undertake, and moving with so many other people is even more of a challenge. At least that's how you should look at it!
So how exactly do you prepare? What are the things you should be doing right now to avoid move in madness and have a (relatively) stressless and painless move? Here are some tips and tricks to make it your new apartment alive and awake, regardless if you're using either professional movers or not:
BEFORE THE MOVE
Get organized - It's always smart and keen to have your stuff organized. This is more so true during a move. Try to already categorize what you're planning to bring and what's going to be recycled or just plainly junked. You wouldn't want to be lugging around that love seat with you, only to find out that there isn't room for it at your new place.
Also, you might want to Start a "move file" to keep track of estimates, receipts and other information. You may be able to deduct your move and lower your taxes, so check with the IRS to see what expenses can be deducted on your next tax return.
Contract Your Friends or Canvass Movers and Trucks - This is something that - to no fail - is kept on the to do list until the last minute. Hiring movers is one thing since they'll gladly take your business even if it's last minute, but contracting your friends to help you move is another. If you are moving in with your helpful friends, make food arrangements and find out pizza places nearby - it's wise to keep that in mind as "payment" for your friends' muscle and sweat. Also, ZipVans and UHaul trucks are also a must for moving in, so try to reserve yours at least two weeks ahead of your move.
Stay Healthy - If you can, lay low a couple of days before your move. Fall move in dates tend to coincide with flu season, and you would not want to be under the weather during that crucial time. If you are moving from another state or an international location, gather your medical records ahead of time and keep them in a safe location so in the off chance that something goes not the way you planned it, then you're ready.
Tie up lose ends - An important thing to remember during a move is that you're taking off from your old place to move to a new one. Your utilities, mail, and subscription don't automatically go with you. There's legwork behind that, and setting aside some time to arrange for your new address is prudent. Specifically:
o Contact utility companies to disconnect, transfer or connect services. Plan on keeping current services through your move date and having new ones available prior to your move-in date. o Return library books and pick up dry cleaning or items out for repair. o Call your local newspaper and set a date to cancel your subscription. o Call your insurance agent to see what changes to expect in your policies. Ask if moving is covered and arrange for insurance for your new home. o Contact health clubs or other organizations to which you belong. Ask how you can end, sell or transfer your membership. o Contact your bank and/or credit union to transfer or close accounts. Clear out safety deposit boxes. Pick up traveler's checks or cash for "on the road" expenses.
Keep in touch - File a change of address. If you don't know what your new address will be, ask the postal service to hold your mail in their office in your new city. Make a list of friends, relatives and businesses that will need to know of your move and send your new address to them as soon as possible. Postal forwarding time is limited.
Take inventory - Decide what items need to go before your move and plan a yard sale or contact your local charities. If you donate, be sure to get a receipt for tax deduction purposes. Make a list of things that are valuable or difficult to replace. Ship these items by certified mail or carry them with you.
Clean house - Start collecting boxes and other packing supplies at least a month before your move. Use up things that can't be moved, such as frozen foods, bleach and aerosol cleaners. Dispose of flammables, corrosives and poisons. Drain all gas and oil from your mower and other motors. Gas grills, kerosene heaters, etc. must be emptied as well. Empty, defrost and clean your refrigerator at least 24 hours before moving day.
Be prepared - As moving day gets closer, finish packing and prepare a box with the essentials. Keep these items handy, preferably in your car. Don't forget to include extra clothing, toiletries and snacks for the kids. Other things to consider are:
o Coffee cups, paper plates, paper towels o Plastic forks, spoons, knives o Dish soap, trash bags, towels o Phone books, pencils and paper, your "move file" o Scissors, masking tape, utility knife, can opener o Toilet paper, prescriptions, aspirin or other pain relievers o Flashlight, light bulbs, hammer
Finish up - Before leaving your old home, check every room, closet and cabinet one last time. Make sure everything is loaded. Leave a note with your new address in the house so future occupants can forward any stray mail.
AFTER THE MOVE
Get connected - Check to see if your mail is making it to your new address or pick up any mail being held.
Fill out the paperwork - Get a new driver's license and new tags for your automobile. And don't forget to register to vote. In many states, you can do this when you get your new license.
Finally, make yourself at home!