With the successful conclusion of the Boston Marathon yesterday, many people are again getting used to being outdoors. Evidenced by over a million spectators under picture-perfect sunny spring weather throughout the event, we got to thinking: how many of you property seekers out there are avid outdoor enthusiasts and nature lovers? Well, with all the recent initiatives and purchases of 'Green' housing units both locally and across the country - we assume the answer is plenty. And if you're one of them, then you're just in luck!
A number of new residential buildings in Boston are carving outdoor spaces in the form of roof decks, garden terraces, courtyards, and pools, to service all of those who want to 'commune with nature'. After all, living in an urban city doesn't necessarily mean you can't have access to the outdoors.
And though apartments have generally gotten smaller in terms of livable square footage to accommodate high-efficiency "micro" units and be more cost-efficient, it doesn't necessarily translate to home owners wanting more compact spaces - young urban dwellers have simply learned the value of sharing, hanging out in common spaces and treating them like an extension of their own apartments. And what better way to increase the appeal of common areas than to introduce pocket gardens and outdoor spaces where everyone can either mingle or meander and reflect?
Just take a look at these properties:
THE KENSINGTON Theatre DistrictAt the Kensington, there is an outdoor lounge and pool area on the sixth floor. The outdoor lounge has a gas fireplace, a built-in flat screen TV and comfortable couches. The deck steps up to a swimming pool with a wooden deck, complete with lounge chairs, as well as a trellis for shaded city views. more >>
THE VICTOR Downtown / Financial DistrictThe Victor apartment complex in North Station not only offers a ton of 'outdoor' green space given its Greenway location, but it also has trees that sit on its rooftop terrace. In fact, the terrace has two pocket garden features: on the one side a large tree, on the other green shrubs and grass where you can do some indoor outdoor tanning. more >>
315 On A Seaport DistrictAt 315 on A, Copley Wolff Architects created an entirely different feel with a 20th floor common roof deck with views over the Seaport District to Boston Harbor. The ipe-decked space has large sliding doors that connect it to a common kitchen/lounge area, and there's two infrared gas grills and dining tables. On the ground level, there is a long entry driveway lined with upright hornbeam trees and ornamental grasses. more >>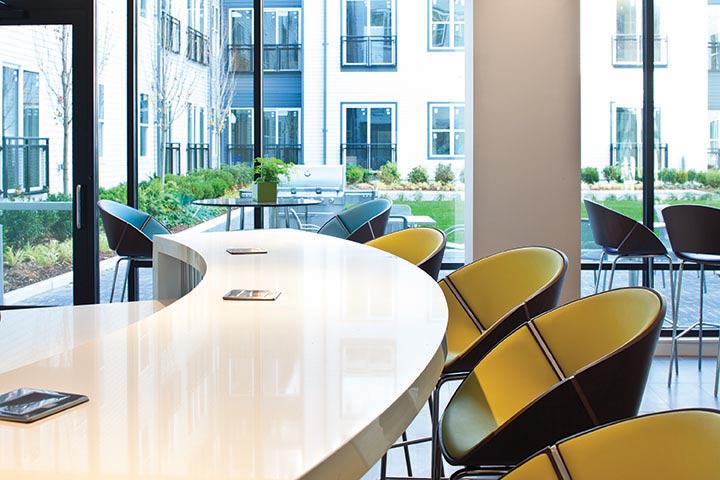 WEST SQUARE APARTMENTS South BostonThe same architects also created an interior courtyard at West Square in South Boston so first-floor units open onto a landscaped area with grass and shrubs. This 5-floor complex on this up and coming 'new' neighborhood also has a common lounge, complete with wifi, snacks, and cable tvs as well as a fitness center, separated only from the lounge by a thin glass partition, giving everyone use of the outdoor greenery.
Of course, concepts such as these are not new. What is new, is that they have come to Boston - a city that prides itself as one of the country's most walkable and innovative places, but which still lacks green open spaces, especially in its Downtown district, where most yuppies reside. That's why there's even more coming in the next couple of years!
Just take a look at these upcoming developments that will feature wide open spaces: Lovejoy Wharf in East Boston, One Canal in Financial District, 101 Seaport Square in the Innovation District, and of course the Ink Block in the South End - where a large outdoor roof deck pool and plaza are now being constructed. It is also noteworthy to mentioned 101 Seaport Square, where a planned 15,642-square-foot fifth-floor landscaped roof deck park (complete with Boston Harbor views) that's open to the public will soon rise.