Con la conclusión con éxito de la maratón de Boston de ayer, muchas personas están de nuevo acostumbrando a estar al aire libre . Demostrado por más de un millón de espectadores menores de ensueño soleado clima primaveral durante todo el evento , que llegamos a pensar: ¿Cuántos de ustedes propiedad solicitantes por ahí son ávidos amantes del aire libre y los amantes de la naturaleza ? Bueno, con todas las recientes iniciativas y las compras de "verde" unidades de vivienda , tanto a nivel local como en todo el país - se supone que la respuesta es mucho . Y si usted es uno de ellos, entonces no eres más que suerte!
Una serie de nuevos edificios residenciales en Boston están forjando espacios al aire libre en forma de cubiertas de techo , terrazas ajardinadas , patios y piscinas , para dar servicio a todos aquellos que quieren ' convivir con la naturaleza ' . Después de todo, vivir en una ciudad urbana no significa necesariamente que no se puede tener acceso al aire libre .
Y aunque los apartamentos generalmente son más pequeños en términos de metros cuadrados habitables para acomodar unidades de alta eficiencia "micro" y ser más rentable , que no necesariamente se traduce a los dueños de casa que desean espacios más compactos - habitantes urbanos jóvenes simplemente han aprendido la valor de compartir , salir en los espacios comunes y tratarlos como una extensión de sus propios apartamentos . ¿Y qué mejor manera de aumentar el atractivo de las zonas comunes de introducir pequeños jardines y espacios al aire libre donde cada uno puede o bien mezclarse o deambular y reflexionar ?
Basta con echar un vistazo a estas propiedades:
THE KENSINGTON Theatre DistrictEn el barrio de Kensington, hay un salón al aire libre y zona de la piscina en el sexto piso. El salón al aire libre cuenta con una chimenea de gas, un televisor de pantalla plana incorporado y cómodos sofás. La cubierta se acerca a una piscina con una cubierta de madera, con tumbonas, así como un enrejado de vistas a la ciudad a la sombras. mas >>
THE VICTOR Downtown / Financial DistrictEl complejo de apartamentos Victor en la estación del norte no sólo ofrece un montón de espacio verde 'al aire libre', dada su ubicación Greenway, pero también tiene árboles que se sientan en la terraza de la azotea. De hecho, la terraza tiene dos características del jardín de bolsillo: por un lado un gran árbol, en los otros arbustos y la hierba verdes donde se puede hacer un poco de bronceado al aire libre de interior. mas >>
315 On A Seaport DistrictA 315 en A, Copley Wolff Architects ha creado una sensación totalmente diferente, con una cubierta de techo común piso 20 con vistas al Distrito Seaport Boston Harbor. El espacio de ipe-cubierta cuenta con grandes puertas correderas que se conectan con una cocina / sala de estar común, y hay dos parrillas de gas infrarrojos y mesas de comedor. En la planta baja, hay un camino de entrada a largo bordeada de árboles carpes verticales y gramíneas ornamentales. mas >>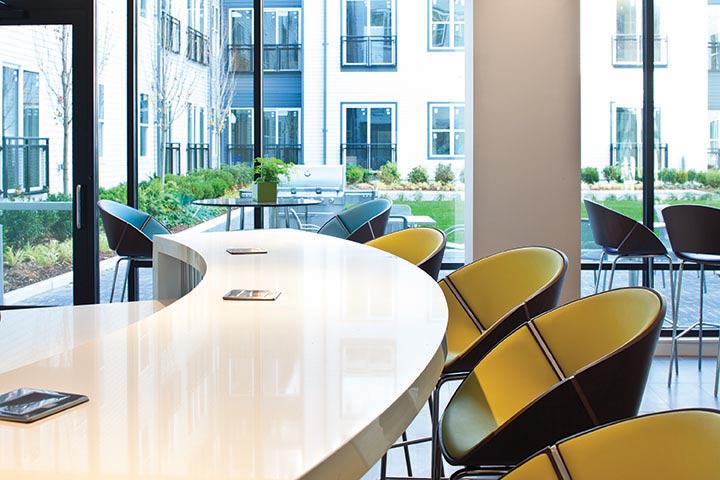 WEST SQUARE APARTMENTS South BostonLos mismos arquitectos crearon también un patio interior en la Plaza West en el sur de Boston así que las unidades del primer piso se abren a una zona ajardinada con césped y arbustos. Este complejo de 5 plantas en esta prometedora "nuevo" barrio también cuenta con un salón común, con wifi, aperitivos y TV por cable, así como un gimnasio, separados sólo del salón por una mampara de cristal fino, dando a cada uno el uso de la vegetación al aire libre.
Por supuesto, los conceptos de este tipo no son nuevos. Lo que es nuevo, es que han llegado a Boston - una ciudad que se enorgullece de ser uno de los lugares más transitables e innovadoras del país, pero que aún carece de espacios verdes abiertos, especialmente en su distrito de Downtown, donde la mayoría de los yuppies residen. Es por eso que incluso hay más por venir en el próximo par de años!
Basta con echar un vistazo a estos futuros acontecimientos que contará con amplios espacios abiertos: Lovejoy Wharf en East Boston, Un Canal en el distrito financiero, 101 Seaport cuadrados en el distrito de la innovación, y por supuesto el bloque de tinta en el extremo del sur - donde un gran aire libre ahora se están construyendo el techo terraza de la piscina y la plaza. También cabe destacar que se ha mencionado 101 Seaport Square, donde un 15,642 pies cuadrados del quinto piso de la azotea ajardinada del parque cubierta planificada (con vistas al puerto de Boston) que está abierto al público pronto se levantará.