It seems to be that all that condo selling talk we've been discussing these past couple of months have played shortly above expectations. Compared to last year's figures, median prices of condo units in the Greater Boston key areas have increased dramatically by more than 7 percent year on year, and 13 percent during the first five months. Though having only increased ever so slightly, the total number of combined closed and pending sales is also up from last year's numbers.
To be more specific in expounding the current state of Greater Boston's condo market, the increase in median prices is astounding for primarily one reason: the rate at which condos sell are close to flat. In fact, closed sales are 4.7 percent lower than previous year's figures. However, combined with pending sales, the total number of condos rose by 1% this year, bringing the total to 2,359 units compared to June 2013's 2,335 units. But wait, there's more.
The same (or even greater) can be said in terms of the the city's condo market. The median price in 12 of Boston's key neighborhoods and districts are also up sharply, and that's either scary or exciting since the average unit is now dangerously edging that of a single-family home. The Boston Globe reports that the price gap between Single-family homes and condos are closer than ever, with the former having a median price of $340,000 and the latter only $20,000 less expensive with a median price of $320,000.
Conventionally, there was no question whether one would go for a single-family home versus a condo, on the premise that a house would have more square footage. Nowadays however (and the market agrees quite prominently), condos have a brighter appeal. There are most likely three major factors that affect this trend: (1) availability and inventory, (2) the maturing market segment, and (3) the cash-flushed clients. Let's discuss each.
Availability & Inventory Single-family home developers, rushing to delivery more to the demanding public, have still not quite replenished the inventory of new homes in the market. They are still cautious and though some are building at rapid rates, the appeal of "outer city" living has and will always be far lesser than that of city dwelling spaces, hence the steady pace of construction of newer homes.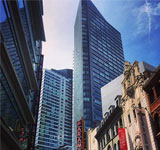 Maturing Market Segment As for the maturing market segment - it seems that even though condos used to be targeted more for young couples and were also downsize-destinations for empty-nesters, that is no longer the case, as families with children are also considering condos for their next home. Perhaps the luster condos create too come from its overall structure. Oftentimes, condo complexes offer feature amenities such as pools, gyms, and common areas that are lifestyle-oriented and are convenient for cosmopolitan and chic birthday parties and family gatherings. Condos are most of the time also more move-in ready than a single-family home - all that's really needed is furniture. Maintenance, which is often one of the heaviest expenses for a dwelling, is also mitigated in a condo lifestyle, so less financial and physical stress to think about for growing families.
This, alongside the limited inventory is greatly contributing to the resurgence in the city's condo market. The yuppie segment, perhaps the most-known condo dweller, is also ever more demanding in this respect, spurting developers to spit out project upon project to quench the market's thirst.
The Cash-flush Client Lastly, cash-flushed clients, who for the most part, have sold their homes and are looking to downsize or just move closer to the city, are pushing the limits of condo sales at even greater heights, creating bidding wars with those who primarily buy with conditions, contingencies, and mortgages. Though not the norm (yet), cash really does move the market, it's just a matter of whether you'll benefit or not from it (and whether you're willing to bet all in).
Considering riding the condo revival lifestyle? Check out these properties in Downtown Boston now!