It seems Boston is off to a great start to the year, with the city bracing itself for ten gigantic residential launches in the next couple of months. Rental buildings, as well as condominium buildings are scheduled to turn over beginning spring and staggered throughout fall in the city's busiest neighborhoods. While most Bostonians know that prices are currently spiking up (both for rentals and sales), they also know that the turnover of newer units will replenish the city's coffer of available units, with the potential to level-off the spikes.
In total, these Big Ten Openings will add a whopping 3,145 units to the market, perhaps flooding supplies in particular "hotspot" neighborhoods where there have been a lot of development and turnovers that started at the onset of the real estate recovery, circa 2011-2012. And though fears of a bubble burst persist in real estate circles, there doesn't seem to be concrete proof that it will actually happen due the staggered nature of unit turnovers as well as stable consumer demand and perhaps most importantly, inventory in Boston as a whole still requires additional units to respond to the market's needs.
In fact, analysts forecast growth in the first-time homebuyer market segment, as well as a rise in the renting population within the city, as universities foresee a higher-than-usual increase in enrollment rate (usually at 4%; predicted to be 7% for the coming academic year, keeping in mind the sheer size of the student population already in town).
Millennials will also have a huge role in shaping the real estate landscape this year, as they comprise the bulk of first-time homebuyers - which not coincidentally, is also predicted to increase 4% by years' end. That no doubt bodes well for developments in the next two to three years, who will have potential buyers and or renters flocking to their lobbies as soon as they open.
For now though, we'll bring you what's in store this year. Here are Boston's Big Ten Openings in 2015:
SOUTH END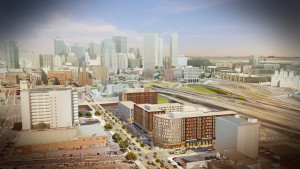 Ink Block 300 Harrison Ave Rental, 315 units Spring 2015
Already generating a lot of buzz because of its convenient and trendy location - and not to mention its anchor retail tenant WholeFoods, Ink Block sits in the former Boston Herald site. Units in this posh and upscale development range from 1BRs to 3BRs and is currently offering one month free to prospective residents.
Troy Boston 55 Traveler Street Rental, 378 units Spring 2015
The Troy is one of those luxury rentals that's too good to pass up. Its amenities and building features, as well as location, make it a safe bet for those looking for an upgrade in their living quarters. It is also dubbed the South End's "New Modern Classic", with units ranging from "sustainable studios" to one bed with dens, to full two-bedroom apartments.
EAST CAMBRIDGE
Twenty | 20 20 Child Street Rental, 355 units Summer 2015
Aptly named Twenty Twenty is a 20-story building located on 20 Child Street across the Charles and is an addition to the ever-growing North Point project. It is poised to add to the East Cambridge's soon-to-be towering skyline, complete with a 9,000 sqf retail and commercial space on the building's first three floors.
The Zinc 22 Water Street Rental, 392 units Summer 2015
Completed in July last year, this 15-story luxury apartment community features outdoor living indoors with its full range of unique amenities such as common fireplace water features, grilling stations, covered bike racks and more. Units range from studios to two-bedrooms that have a more than decent average size of 793 square feet! Pretty darn good, if you ask me. Not to mention the Zinc is also adjacent to Lechmere station which makes it even more comfortable and convenient.
SEAPORT DISTRICT
100 Pier 4 142 Northern Ave Rental, 359 units Now Leasing
Part of a much, much larger development, 100 Pier 4 is a testament to the standard of luxury living in the Seaport. Complete with an elevated pool and deck area, a high-end fitness center, a well-appointed resident louge, and a private screening room, its units range from studios to three bedrooms with prices that reflect is opulence.
MIDTOWN (Financial, Theater, and Greenway Districts)
AVA 45 Stuart Street Rental, 3998 units Spring 2015
One of the city's much-frenzied buildings due to its architecture, AVA Theater District has a lot more to offer than what visitors might see from outside its walls. Part of the Avalon Community that sits so famously by the Pru, AVA's units will range from studios to two-bedrooms, all with a hotel-like ambiance. Add to that fact that residents will have exclusive access to a Rooftop Sky Pavilion that comes complete with a indoor and outdoor lounging furnishings as well as grilling stations.
One Greenway 99 Kneeland St Rental, 217 units Summer 2015
Nestled in between the Financial District, Chinatown, and the Theater District, One Greenway is the much celebrated project to come to the Rose F Kennedy Greenway in a long time. It will house market-rate apartments, as well as retail establishments on the ground floor.
One Canal 1 Canal Street Rental, 320 units Fall 2015
Started only in late 2013 and inaugurated by Mayor Menino himself, this addition to the embankment between the West End and the North End will surely add some character to the stiffness of Bulfinch Triangle. The complex will rise 12 stories high and will house 320 units ranging from studios to two bedroom units.
FENWAY
The Viridian 1282 Boylston Street Rental, 322 units Spring 2015
One of the burgeoning blockbuster projects in Fenway, The Viridian was completed and topped off last July. In two months time, its well-appointed halls and apartments will be available to everyone who's been looking for an alternative to Fenway Trilogy - both of which offer a superb luxury rental lifestyle that's easily accessible and close to conveniences such as a theater, major grocery store, and dining options.
Van Ness 1325 Boylston Street Rental, 172 units Spring 2015
This development might be opening alongside The Viridian, but don't let that fool you into thinking they're the same. Developed by Samuel & Associates (who seem to be the father of Fenway's real estate renaissance), Van Ness is dubbed to be the epitome of Fenway lifestyle, balancing work and play. Sleek, contemporary, it's slated to be the perfect nest for city dwellers, especially with its retail bragging rights on the ground floor anchoring ever-popular and the city's first centrally-located Target. Units range from studios to two bedrooms up to almost 2,000 sqf.