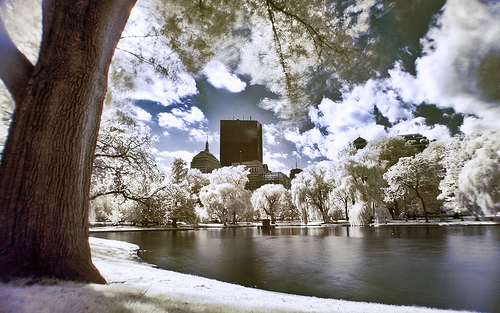 As spring slowly but surely creeps in to our snow-striken city, more and more listings will be coming up, ready to be taken by willing buyers who have been on a standstill waiting out with their wallets this winter. And as homebuyers flock back to market - not to say they've left, but mostly went on hibernation - there are a couple of words you'd be wisely informed about when it comes to available properties out there, especially for those of you who are going house hunting this spring.
As a prospective buyer, descriptives of properties alongside their photos, are almost always the deciding factor before you plan to attend an open house or schedule a showing with your broker. And, for better or worse, property descriptions are also the first barriers in your buying thought process, with some properties listing features that seem "just too good to be true" or are a flat out embellishment of the truth behind what's actually offered.
But of course, there are exceptions - properties that are worth the look and certainly worth your while, you just have to know how to read between the lines and sometimes take the property's description as it is and be prepared to pay the premium for it. And so, to help you in your path to real estate knowledge, we present to you the "truths" behind listed features you've been obsessing about in those brochure write ups.
1. "Pet-washing room"
Let's not pretend there is something inherently pet-friendly here. Isn't this just a room with a sink? Admittedly, it's convenient to keep Fluffy's wet fur away from your toothbrush, but is such an amenity really going to lure you to one building over another? Perhaps. But this feature is definitely new to market though, and not a lot of buildings offer them yet. That's not to say it'll be coming soon to more developments in the coming years.
2. "Zen garden"
If you must call this patch of grass and two rocks a "garden," then fine. But does it need to be Zen? Can it be a "pocket garden"? That seems like something most people would be more likely to appreciate. All kidding aside though, there are quite a few brownstones out there that offer such an amenity, having converted a small patch of their patio or outdoor space to an urban garden that's good enough to plant flowering seeds on, or at least good enough to bring some green into a concrete space.
3. "Near transit"
By now, everybody knows that being close to the T is important. It's also something of a given in Downtown Boston, as there are bus and train stops in almost every stretch of the city's neighborhoods. So unless the property listing you're looking at is not within the metro area, then you're most likely to see this feature repeated a hundred fold in your search. Have a car that you take everywhere? Then leverage a property's proximity to public transport and find out whether there is parking attached to the home you're interested in - or at least a garage that can house your car during inclement weather.
4. "Yoga room"
Again, it's just a room. In all honesty, unless it is a dedicated space just for doing yoga, then this should actually read: "one spare room". Increasingly however, more and more luxury developments are including yoga and reflection rooms in their footprint to offer residents a break from the hustle and bustle of everyday life. Take for example the Watermark in Kendall or North Point in East Cambridge. These developments have gone all out on offering "dedicated spaces" for extra convenient living. Classes are held in them, too, so you won't have to worry about who'll guide you through your meditation poses.
5. "Loft-like"
So is it a loft or not? When this phrase is invoked, it usually means, "this is your typical condo with slightly higher-than-average ceilings, for which you will pay a premium." Rarely found in newer developments, these "loft like" units are usually located in the South End, where most buildings have been gentrified and converted into lofts. If you see this feature on a brownstone listing, be prudent in asking before scheduling a showing if the property is actually a loft or just has elevated ceiling heights; only then will you actually know if it's a look-a-like or the real thing.
6. "Laundry in the building"
Again, on its face this is a wonderful thing. The reality, though, is that there's no guarantee the facilities will be well-maintained, available, or downright easy to access. Beacon Hill brownstones are notoriously known for offering laundry in their buildings, only to greeted with a sub-basement room with two washers and dryers for all to share. Some you even have to pay for and schedule use. Make sure to check this feature out when you do a tour of the property, since only then will you verify how "laundry-friendly" the place really is. Keep that in mind and hedge your expectations next time you see this instead of "in-unit laundry" listed on a property.
7. "Gourmet kitchen"
This, if you're not already aware, is the epitome of embellishment. Some properties just would like to take it to the next level and think putting a stainless steel toaster makes the kitchen counters gleam with gourmet greatness. A real gourmet kitchen will feature modern appliances as well as a disposal and granite counters. Not to mention cabinetry that has enough space to suit all of your kitchenware.
Thankfully, most Downtown Boston listings have gone through renovations and improvements that "gourmet kitchen" isn't just a fancy term thrown around. A lot of properties on sale do have this feature alongside redone bathrooms. But be also aware that eat-in kitchens are also common in a city like ours, so don't be turned off if that's the case since it's the norm anyhow (or so that's the case for rentals).
8. "Alcove studio"
Only in Boston is a minor architectural feature not only touted but sought out enough that its existence incurs an extra cost--hundreds of dollars more a month, based on our experience. An alcove studio is just a roomier studio, one with a small, added area that's un-bordered by a door. Alcove studio also tend to border to one-bedrooms, except that technically the alcove can't be called that since there's no window to completely classify it as such. One thing that does bode well for these types of properties: open layout and space, space, space in the middle of the place.
In doubt about any of the amenities you've seen posted on a property? Get in touch with us now and we'll find out exactly what it is for you! Call (617) 505-1781 and schedule a risk-free consultation.